Fiber Optic FBG Reflector ONU Grating Fiber Optic Reflector SC APC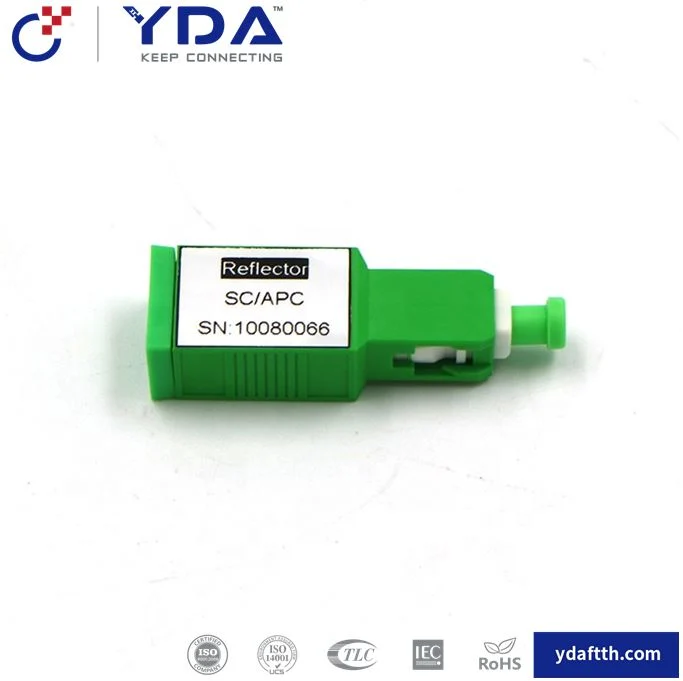 Description:
1650nm fiber grating optical filter is the important components in the field of Optical communications link to detect.The principle is equivalent to a band-pass filter, which completely reflects light from 1643.5nm to 1656.5nm back (the return ratio is over 99.5%) and all other wavelengths of light pass through.Used in the field of communication can be separated communication light (C + L band) and detection of light, to prevent the detection of light through to the communication signal impaction, and can detect the return light at the control.All aspects of fiber grating indicators are stronger than the coating method.
Features
:
Grating embedded in the fiber, free from environmental pollution;
High reliability, long life expectancy;
Reflectance is high for bands that need to be blocked (above 99.5%), close to total reflection;
The wavelength of the reflection band is controlled accurately (1643.5nm ~ 1656.5nm)
In the bandpass edge of the transition zone is very narrow (less than 2nm), this area is all-pass;
Using the standard common adapter structure, easy connection;
Function:
Pass 1310+1550 nm and Stop 1650nm.
RoHS compliance
Specification:

Parameter

Specification

Wavelength Range(nm)

Pass Band

1260~1580

Reflect Band

1625~1650

Pass Band Insertion Loss(nm)@ (1260~1580)

≤1.0

Reflect Band Insertion Loss(dB) @ (1625~1650)

≥15(UPC)

Polarization Dependent Loss (dB)

≤0.4

Ripple(dB)

≤0.6

TDL(dB)

≤0.5

Durability(times)

500

Maximum Input power (mW)

500

Operating Temperature (ºC)

-10~+70

Storage Temperature (ºC)

-40~+85

Connector

SC/UPC Male & SC/UPC Female
Note:
(1) ORL(dB) = -10 log 10(Reflected Power/ Input Power) [dB];
(2) IL(dB) = -10 log 10(Output Power/ Input Power) [dB];
(3) To measure the Return Loss of reflect band, the light of 1650nm should be injected from the female side of reflector.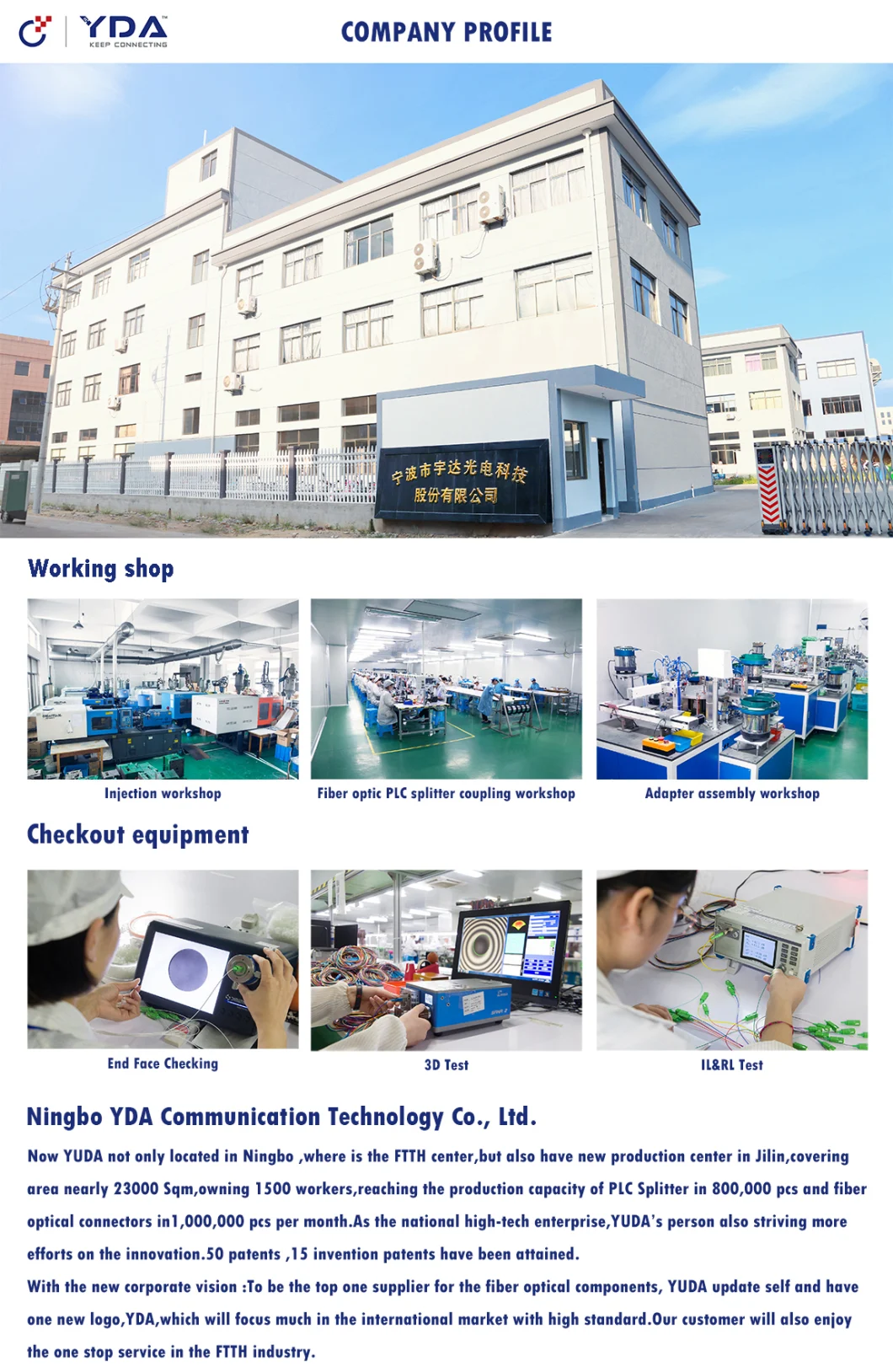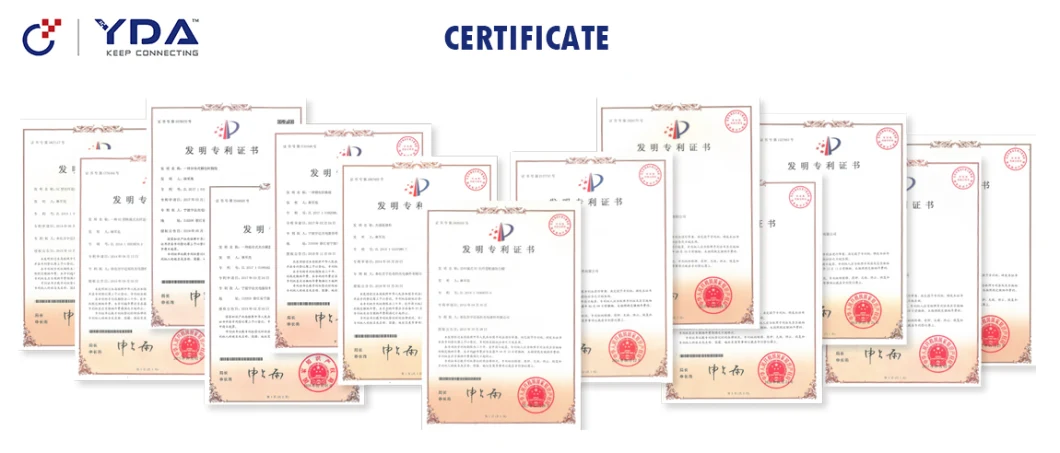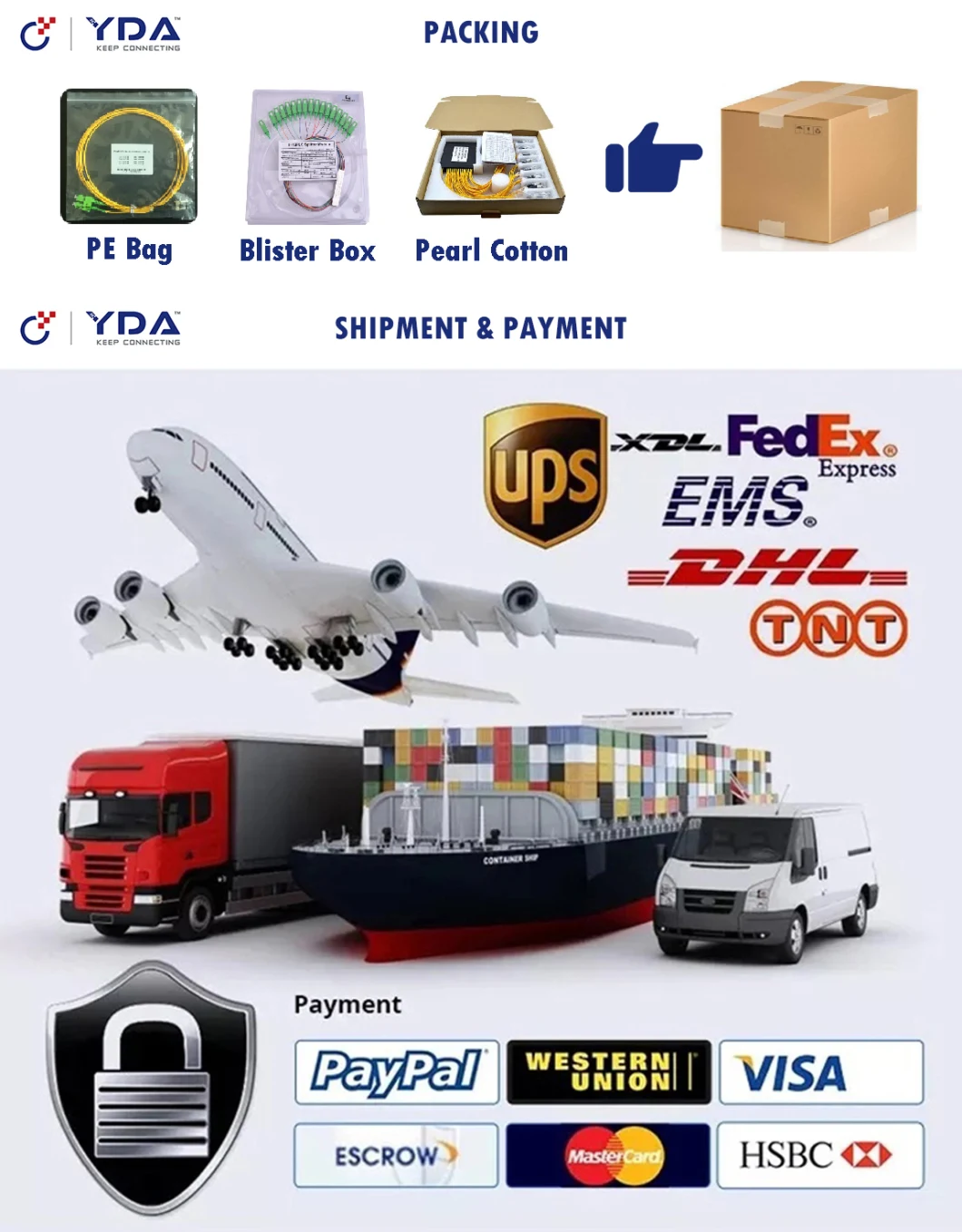 FAQ
Q: The History of our factory?

A: In 2000, Yuda entered the communications industry and began to make adapters. It accumulated funds to invest in jumper production in 2006, and increased the optical splitter workshop in 2009. Yuda won the national high-tech industry in 2013, and sold over 15 million US dollars in 2015, and began to explore foreign markets.

Q: The location of our factory?

A: Our factory is located in Ningbo, Zhejiang, and our new factory has also been put into production, located in the Northeast (Jilin Province).

Q: Occupied area for our factory ?

A: The construction area of our factory is about 23,000 square meters, including 8000 square meters in Fenghua Plant and 15,000 square meters in Northeast China.

Q:What is the quality for your product?

A: All of our product are with high quality, we promise 100% recall policy if they are unqualified, we can write it into our contract!

Q:What's your best price for your passive fiber optic product?

A: Based on the quality of our products and the quantity of your estimated. We would quote the great best matching price all the time.

Q:Do you offer guarantee for the products?

A: Yes, we offer 1-2 years warranty to our formal products.

Q:What action will you take if there are some product problems?

A: If there are defective ones in the batch of products, we will offer spare ones for.

Please always feel free to contact us for any questions, it's our honor to be on service of you
Features!