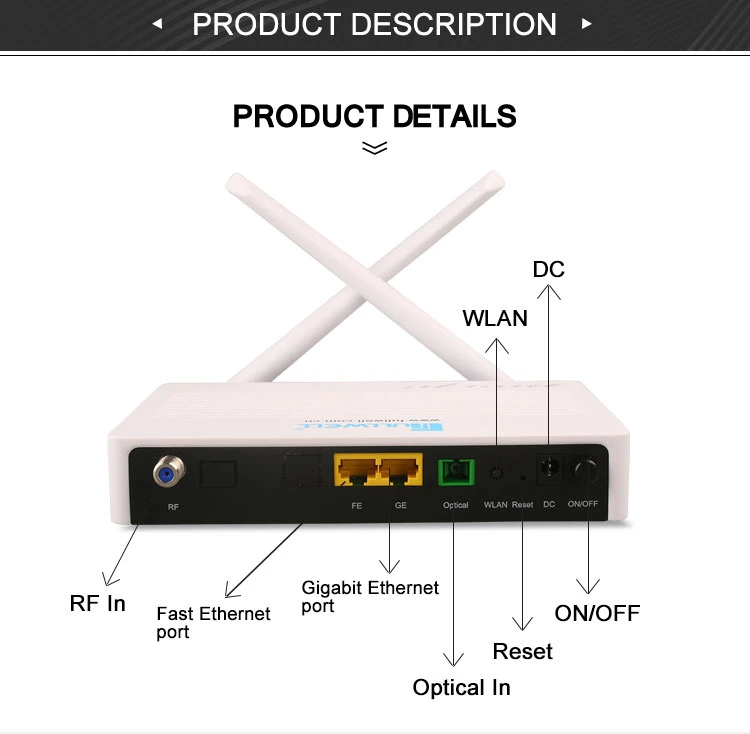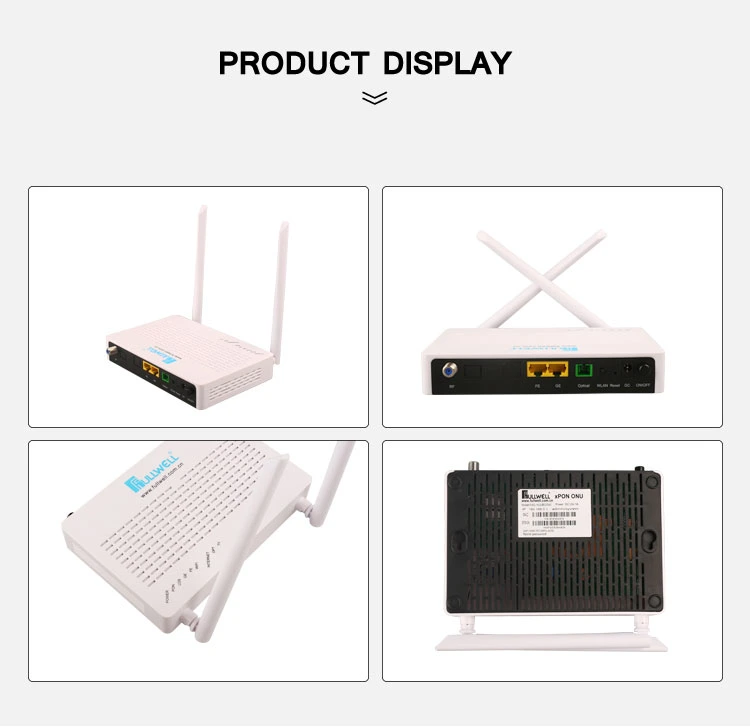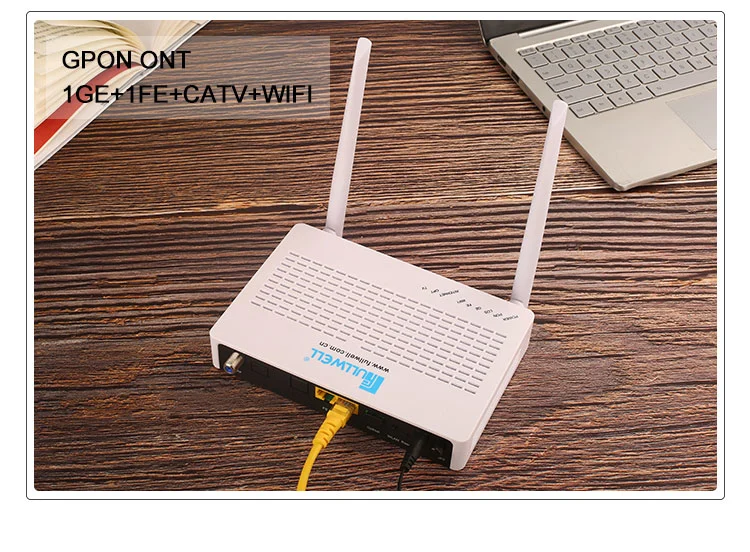 1. Overview
FWG-HGU8020WC GPON ONT is a three-in-one FTTH gateway for small and medium-sized businesses, SOHO office and home users, integrating GPON, WIFI, and CATV functions. This series of products complies with the G.988 international standard and has good interoperability and operability, enabling interoperability with mainstream manufacturers' OLT devices.
2. MAIN SPECS
ITEM

UNIT

SPEC

OPT




I




CAL

Working wavelength

nm

PON:TX1310,RX1490;CATV:1150~1600

TX POWER

dBm

1-4(GPON)

RX Sensitivity

dBm

≥ -27

optic connector

/

SC/APC

CATV POWER

dBm

-16~-6

CATV Return Loss

dB

≥45

RF

Broadband/unevenness

MHz/dB

45~1000/≤ ±1

TX POWER

dBuv

AGC,TX POWER76±2

Return Loss

dB

≥14(75Ω)

MER

dB

31 -15dBm




34 -12dBm

CTB/CSO/HUM

dB

≥62/≥62/≥45




OT




HE




R

WIFI

/

802.11 b/g/n 2.4GHz 300Mbps

TYPE

/

HGU

POWER

V/A

AV110~255V→DC12V 1A

Operating temperature

ºC

-5~40
3 Instructions for Use
Power Connection
This machine is supported by the power adapter. Firstly, connect the DC 12V output cable of the power adapter to the DC 12V port of the machine, and then plug the external regulated power supply into the 220V of the mains. The power indicator on the panel is on, indicating that the power supply is working normally.
2. INTERFACES
| | |
| --- | --- |
| INTERFACES | Introduction |
| ON/OFF | Power switch button |
| Power | Power input interface, DC 12V/1A |
| Optical | CATV and GPON fiber interfaces, using SC/APC fiber access |
| GE,FE | LAN service interface, GE is a gigabit port, and FE is a 100 Mbps port. |
| Reset | Reset button |
| WLAN | WIFI switch |
| CATV | CATV RF signal output |
Indicators Description
Indicator

Status

Description

Power

ON

The device is powered on normally.

OFF

The device is not powered on.

PON

Twinkling

Received light, device not registered

ON

The ONU is connected to the OLT and registered successfully.

OFF

No optical received, device not registered

LOS

Twinkling

Fiber break or optical power exceeds limit

OFF

ONU accepts normal optical power

GE,FE

ON

The network port is connected but no data is transmitted.

Twinkling

Network port has data transmission

OFF

The device is not powered on or the network port is not connected to the terminal device.

WIFI

ON

WIFI works fine

Twinkling

WIFI has data transmission

OFF

WIFI work abnormally

Internet

ON

Successfully connected to the Internet

OFF

Not connected to the Internet

OPT

OFF

RF output level is within the normal range

ON

RF output level is not within the normal range

TV

ON

CATV optical signal is within the normal range

OFF

CATV optical signal is too low or faulty
4. WEB Login
This machine supports WEB management. You can log in to 192.168.0.1 (default IP address) from any PC to get relevant information. The steps are as follows:
1) Change the network segment of the PC to 192.168.0.X and connect it to any network port of the machine with a network cable;
2) Enter http://192.168.0.1 in Chrome, press Enter to pop up the login page, enter the username and password (user/user), and then enter the system management page.
5. Matters Needing Attention
1) This device is an indoor structure, it can not be used in places that are easily invaded by rainwater; it should have proper space in the indoor box to facilitate heat dissipation; the shielding net of the output cable must be grounded, and the grounding resistance should be less than 4Ω;
2) The fiber input and the cable output must be reserved for a certain length to avoid accidents caused by too short; the optical interface in the ONU is the SC/APC head. Do not misplace or the end faces are inconsistent.
6 Accessories
1). External power supply * 1: AC220V/DC12V/1A
2). User Guide * 1
3). The certificate of conformity has been affixed to this manual.
FAQ:
Q1: Are you a factory or trading company ?
A: We're a professional trading company with excellent cooperative factories.

Q2: Where is your company located?
A: Our company is located in Hangzhou City,Zhejiang Province, China. All our clients,from home or abroad
are warmly welcomed to visit us!

Q3: Do your products safe enough?
A: Our products meet with the certificate of CE,ISO & Rosh. Our products are made according to the
standard of the market in our clients. They're all in superior quality & competitive price. You can rest
assure that they are safe enough.

Q4: How long does your warranty provide?
A: We usually provide you a 2-year warranty after the date we sold under a normal usage.

Q5:What's your payment terms?
A:T/T, Western Union, Money Gram

Q6:What's your delivery time?
A: Around 8 working days after get payment in account ( or pre-payment)

Q7:Can you accept OEM?
A:Yes. We would accept OEM&ODM.