All-In-One EOC Master CATV Internet(
ONU+OR+4*EOC
)
The Optical Receiver module received the optical signal from the Optical Transmitter of HFC network, and the signal processed by the PD, Amplifier, EQ and AGC to a stable RF output. The output level will be up to 108dBuv( 4*RF output) or 112dBuv (2*RF output). Ethernet data is delivered to ONU through the EPON or GPON network form the OLT.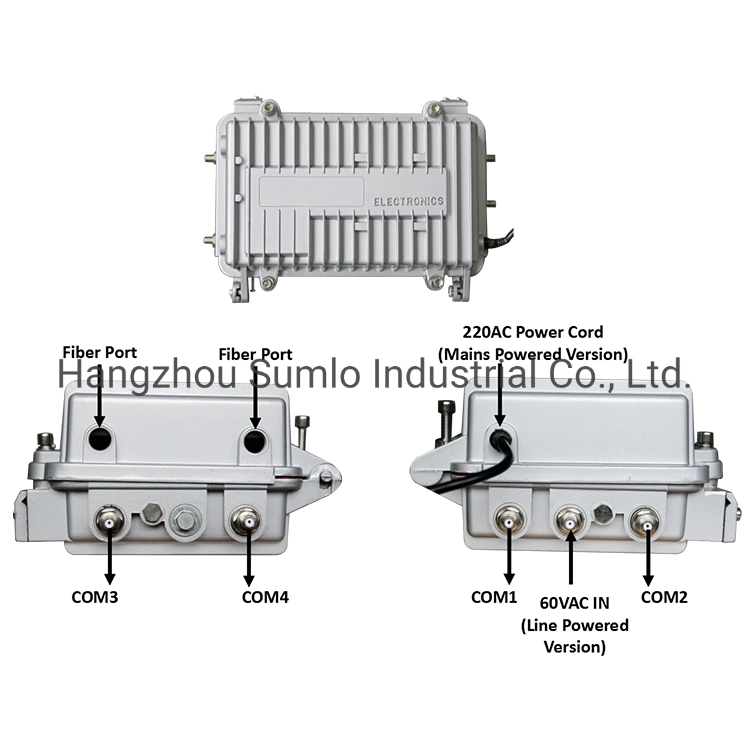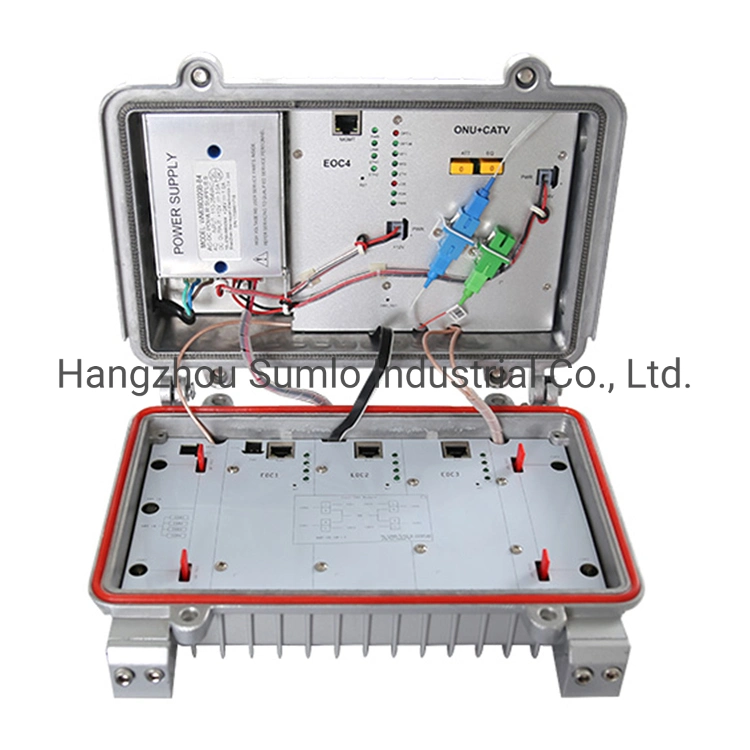 Feature
:
* 1 EPON or GPON ONU module.
* 4 HomePlug AV EOC Master modules.
* 1 HFC Optical Receiver.
*Available with WDM inside or not.
*RF output configurations with 4 outputs.
*Line Power (from 90 to 264 VAC) or Cable Line Power (60VAC) optional.
*35/47, 42/54, 65/87 type High/Low Filter optional to meet your network.
Application:
CATV
Internet Access
VOD
IPTV
Camera monitor system
FTTB/FTTC
Technical Specification:
Item

Parameters

Specification

Main Functional Module Configuration

ONU

1 x GPON or 1* EPON ONU

EOC Master

4*EOC Master

CATV

1x CATV Optical Receiver with WDM or not

External Interface

Fiber Port

5/8" type, 2 port, for Fiber Optic Pigtail input

COM Port

F-Type female, 4 output port for mixed EOC and CATV signal

Power Input Port

F-Type female, line power(40-90VAC) input version

Power cord with China plug,
Mains Powered (90-264VAC) version

Uplink

Broadcast CATV




(optional with WDM or not)

WDM version: 1*CATV/PON optical input, SC/APC,




1*PON output, SC/PC, connected with ONU input

Without WDM Version:1*CATV optical, SC/APC

Ethernet Data




(EPON or GPON optional)

EPON Version :1*EPON PX20+, SC/PC

GPON Version :1*GPON Class B+, SC/PC

Physical Features

Power supply

Line Power(90-264VAC)




Cable power(60VAC) optional

Power Consumption

Consumption:<45 W

Size

Dimension:290×220×120mm

Net weight

4.2kg

Environment Attribute

Working Temperature:-20 ~ 65ºC




Storage Temperature:-40 ~ 85ºC




Working humidity:10% ~ 90%non-condensing




Storage humidity:10% ~ 90% non-condensing
Other type of EOC Master