UVONU-4FE-TW-02 is the subscriber terminal equipment among UVINS's serialization products of EPON ONU. This EPON ONU product is designed based on the international standard of 802.3ah, at the same time it also follows the technical requirements of China Telecom.
Besides, UVONU-4FE-TW-02 is of good interoperability with the mainstream terminal-manufactures' OLT device. Through high-speed EPON access services, it can provide users with Broadband internet or access to the corporate network services. At the same time, it can provide users with online video on demand, video conference and large file transfer business, etc.
Application
As the terminal, UVONU-4FE-TW-02 is employed in the EPON network through optical splitter. Under the topology of maximum 64 optical link paths, the distance between terminal and local side can reach 20 kilometers. It can be placed at home, as well as applied in the Net bars, small offices, or the other places which demand Broadband access and occasion of video service.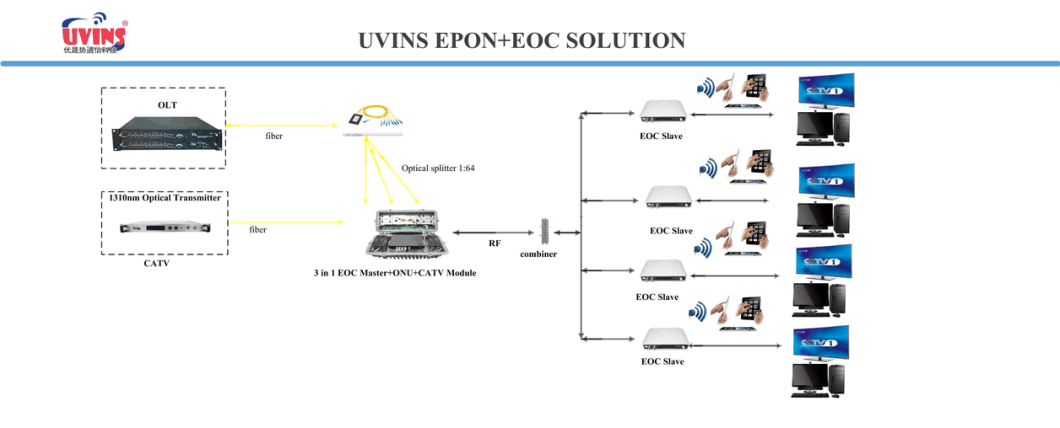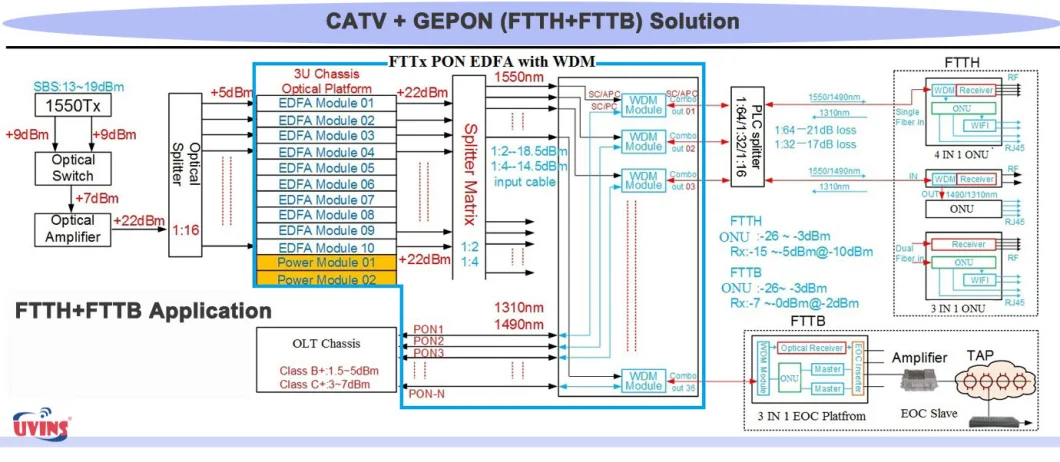 Specification
Item

UVONU-4FE-TW-02

Port

1 EPON interface
2 optical interfaces(1 PON port with SC/PC fiber interface, 1 CATV optical interface, 1310nm or 1550nmWLD, with SC/APC fiber interface)
4 Ethernet LAN port(10/100 Base-T
auto-sensing)
1 RF CATV outlet
CATV radio-frequency AGC
WiFi

Transmission rate

Uplink: 1.25Gbps, Downlink: 1.25Gbps

LED indication

POWER indicates operating status of ONU
PON-ONU registration status, LOS-ONU operating status, RUN-PON optical signal status, LAN1~4 - Link and Active status of 4 LAN ports
OPT - CATV photoreceiver operating status
WiFi - WiFi access operating status

Power Supply

Additional power adaptor 12V/1A
INPUT 100-240VAC/50-60Hz

Max power consumption

<=12W

Dimension(L×W×H)

220mm(L)*140mm(W)*33(H)

mm

Weight

<700g

Power Supply

Additional power adaptor
100-240VAC/50-60Hz input,12VDC/1A output

Working Environment

Temperature: 0ºC ~ 40ºC
Storage temperature: -20°C~75°C
Humidity: 10% ~ 95% relative humidity

PON feature

Conform to China Telecom/China Unicom GEPON interoperability standard Compatible with 802.3ah
20KM transmission distance of signal optical fiber
1GbpsH uplink and downlink triple agitation encryption
Standard OAM and extended OAM management function
Port mirror
Port isolation
Optical power reception range: -15~0MHz (AGC)
RF output frequency: 47~1000MHz
RF output levle: ≥70 dBuV (AGC)
Port speed limit, storm control
IGMP snooping
CTC controllable multicast
Dysing Gasp
STP

VLAN

802.1Q vlan
SVL
Vlan ID:1-4094
CTC vlan

MAC address table

2K MAC table
Static MAC address entry
Black list
MAC configurable aging time

WiFi port

IEEE 802.11 b/g/n compatibility
2.4GHz
2X2 MIMO multi-antenna model
Multi-SSID
64/128 WEP
Support WPA-PSK, WPA2-PSK
Wireless swicth

CATV

RF Video Output Bandwidth (MHz):45~1000
RF Output Level(dBuV):80
AGC Dynamic Range(dBm):-6~+2

multicast

IGMP snooping
MAX 255 multicast entry
CTC controllable snooping

Qos

Classification: DA MAC,SA MAC, Vlan pri, Vlan ID, Ether type, DA IP, SA IP
802.1p/DSCP/TOS
Scheduling: SP

OAM

CLI
Telnet
Web
Firmware Remote & Local upgrade

PON port

Compatible with CTC specification
Compatible with 802.3ah
4 queue and SP scheduling
Dysing Gasp